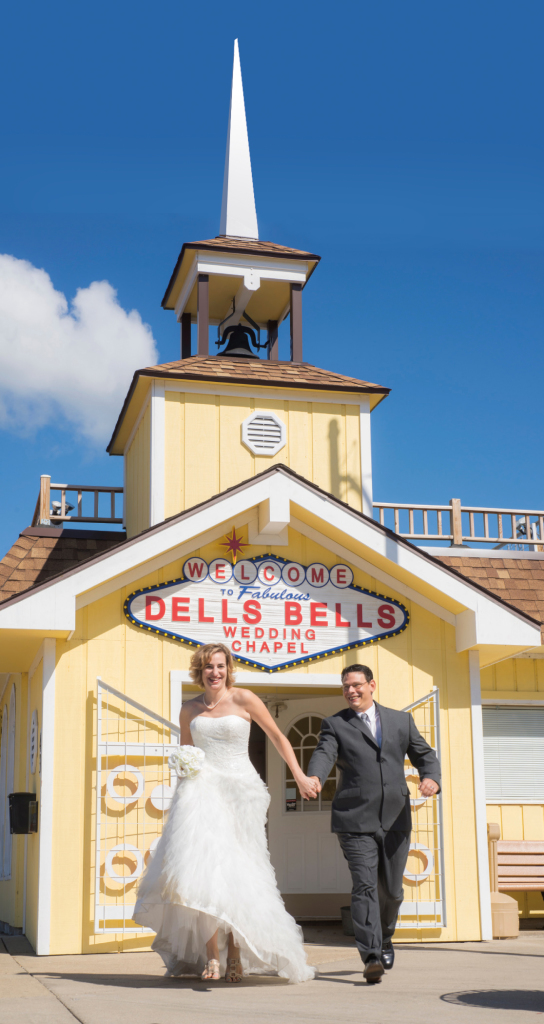 In 2004, Dells Bells Wedding Chapel was established. Successfully, bringing a stress-free Vegas Style wedding experience to the Midwest!
The Chapel's success is a testament to the number of couples looking for an affordable, and romantic, alternate to a courthouse wedding.  
We constantly strive to keep our pricing low and our value high.  The number of ceremonies we host annually has a direct influence on our ability to keep the venue affordable for all of our couples.  
Located in the center of the Wisconsin Dells magic, we enjoy plentiful parking, a nearby RiverWalk and an abundance of dining & cocktail establishments.  Best of all, everyone you encounter will be happy to congratulate you on your nuptials!  
The atmosphere downtown has been a major draw for our couples.   Keeping the festivities fun and lighthearted adds to the stress-free experience you are looking for.  Upon exiting the Chapel, most of our couples head directly to the RiverWalk for a beautiful photo backdrop.  From there, they begin a "roaming reception", toasting their newlywed status.  Once their group is ready for a meal, they simply pull up a seat at one of downtown's many friendly locations.   
Since children may also play a big part in your day, this family-friendly destination is ideal. We even offer options that allow you to incorporate your children into the wedding ceremony. 
As there are many larger wedding venues in our town, we also have our  "Minister-To-Go"  services available. Pricing can be found on this website.
Although we are only at the chapel by appointment, please feel free to contact us by phone from 10am-8pm daily.  608-393-4228
Call us to make your wedding reservation, at least 9 days in advance.  We will guide you through the steps to obtain your marriage license.  Also, you can click this "Marriage License Link" for more information.  
Congratulations on your engagement!