Vegas Style Weddings In Wisconsin Dells
How It All Works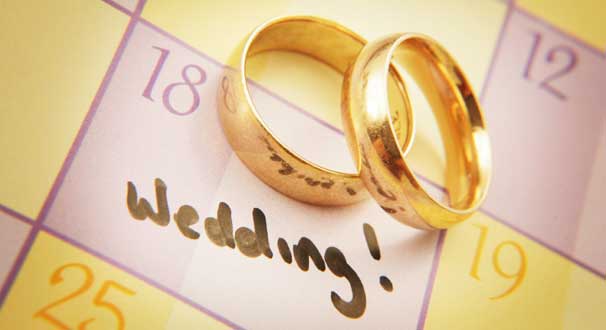 Once you've agreed upon your date, time and package, you can call to hold your reservation. You will need to pay a 50% deposit.
We will then email your confirmation.  Print this immediately. You will need it at the County Clerk's Office when you're applying for your marriage license.
If you live in Wisconsin, you will apply for your marriage license in the County you live.  However, if you live outside of Wisconsin, you will apply in the County where you hold your ceremony.  We will provide all of the proper information when you call to reserve your date.
We are proud to be handicap accessible.
Downtown parking is only $1 and is enforced May 1 – October 1.
You, and your guests, will need to arrive, fully dressed, at 20 minutes before the top of your hour.  This ensures a stress-free experience. You'll walk up the aisle at the top of the hour.  If you'd like to do a "Bride Hide",  simply have the groom arrive 5 minutes later, at quarter to the hour.
If you arrive early, as a result of being awesome, please be patient for the prior wedding party to leave.
Once the ceremony is complete, you will have a bit more time in the chapel for photos. Either with your posed photography session, or with your guests.
You will be all set to celebrate by half past the hour.
Once you're heading out, you'll want to take your cameras to the RiverWalk for picture perfect backdrops.
Also, there are plenty of dining opportunities right downtown, to help celebrate your nuptials.
Find us on Facebook to stay up-to-date with the latest news and contests.
We are truly honored to be a part of your day!
Although we are at the chapel by appointment only, we are on call daily from 10 am – 8 pm to serve you. 608-393-4228